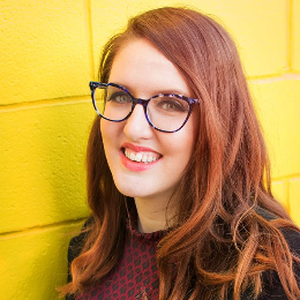 Chelsi Harris
Chelsi has over 20 years of experience in graphic design, copywriting, and marketing. Her rich knowledge stems from her education at the Art Institute of Fort Worth and the University of Texas of the Permian Basin, coupled with several years of involvement in freelance work where she self-taught her way through many of the changing facets of the design world. Chelsi assists with day-to-day office management duties, social media direction, and tradeshow coordination at her current position. She develops an array of specialized marketing materials for the business development team including but not limited to social media, video post-production editing, and collateral. Chelsi's creative energy can be felt through her spunky and fun personality. Her strong eye for detail, practical experience, and creativity are vital in elevating the brands of her clients.
Background and Skillset
Chelsi has worked on Fortune 500 accounts, including Walmart, Albertsons, Amazon, ESPN, and Kroger with experience with IP and NDAs. She is a problem solver and offers innovative concepts as a solution to overcome any obstacle.

Chelsi can lead from any seat while working independently and as a team. She is very experienced in the Adobe Creative Suite - mainly focused on InDesign, Illustrator, and Photoshop; in addition to the Microsoft Office Suite. She is also taking courses to learn more about utilizing programs such as Dreamweaver and AfterEffects.
Success Rates
Chelsi was successful in assisting former employer, The Marco Company, by helping them save over 2.2 million dollars annually by optimizing multiple processes to add greater value for the stakeholders.

During her time at Water Technology, Inc. Chelsi has successfully increased their social media presence from 1000 followers in July 2021 to 4500+ in December 2022. She is fiercely competitive in her approach, and can handle complex situations from both a strategic and a tactical perspective. As a Digital Marketing Expert, she increased analytics for the
company as follows:
Total Number of Impressions
217,996 (90.7827% increase from 2021 to 2022)
Total Number of Clicks
18,512 (41.0761% increase from 2021 to 2022)
Total Number of Reactions
7,514 (152.063% increase from 2021 to 2022)
Total Number of Shares
297 (116.788 % increase from 2021 to 2022)
Total number of Posts
254 (109.917% increase from 2021 to 2022)
Additionally, she increased their video collection from 0 to 14. Chelsi worked on multiple awarded RFPs, handled all speaking presentations, and implemented the new brand identity standard for WTI's PowerPoint marketing materials for the public/municipal branch.

During her time as the Marketing Manager of Fortified Fitness Chelsi implemented the company appearance and voice while assisting with protocols for Operational needs. Within 2 months Chelsi more than doubled the social media follower count on Instagram, Linkedin, and Facebook.